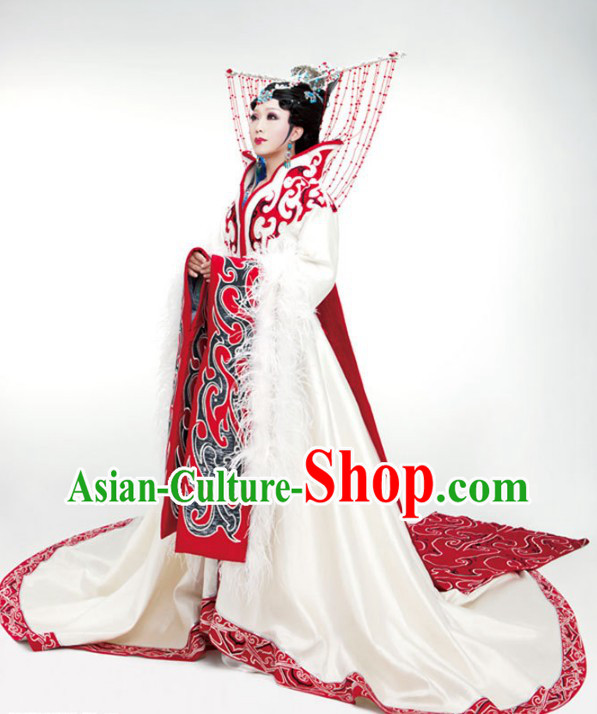 Delivery: Free 2-7 days worldwide delivery to your door via DHL, EMS, UPS or FedEx.

Handicraft: Well made by top traditoinal Chinese tailors using high quality fabrics

Size: All sizes of the size charts are in stock. If you want to customize it free, you may leave us a note during checkout with your size number or measurements of your height, weight, bust, waist and hip.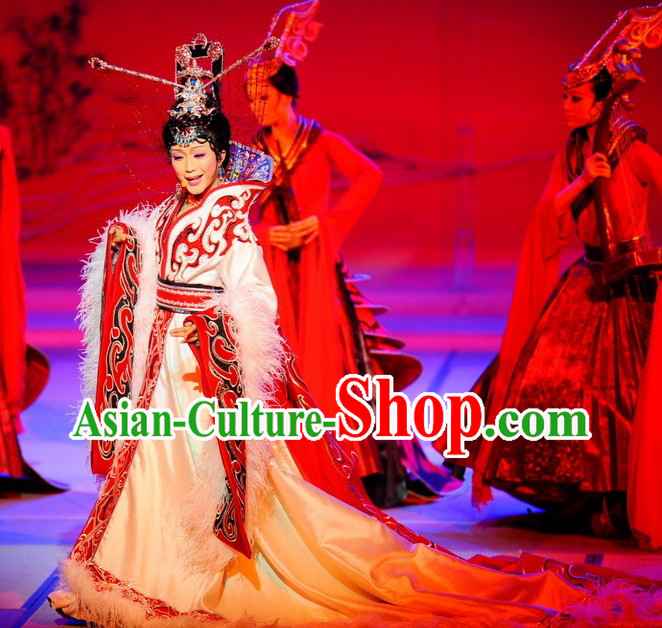 Wang Zhaojun was known as one of the Four Beauties of ancient China. Born in Baoping Village, Zigui County (in current Hubei Province) in the Western Han Dynasty (206 BC¨C8 AD), she was sent by Emperor Yuan to marry the Xiongnu Chanyu in order to establish friendly relations with the Han Dynasty through marriage.
In the most prevalent version of the "Four Beauties" legend, it is said that Wang Zhaojun left her hometown on horseback on a bright autumn morning and began a journey northward. Along the way, the horse neighed, making Zhaojun extremely sad and unable to control her emotions. As she sat on the saddle, she began to play sorrowful melodies on a stringed instrument. A flock of geese flying southward heard the music, saw the beautiful young woman riding the horse, immediately forgot to flap their wings, and fell to the ground. From then on, Zhaojun acquired the nickname "fells geese" or "drops birds."
Wang Zhaojun was born to a prominent family of Baopin village, Zigui country (now Zhaojun village, Xingshan county, Hubei) in the south of the Western Han empire. As she was born when her father was very old, he regarded her as "a pearl in the palm". Wang Zhaojun was endowed with dazzling beauty with an extremely intelligent mind. She was also adept in pipa and master of all the Four Arts of the Chinese Scholar ¨C Guqin, Weiqi, Calligraphy and Chinese painting. In 36 BC, Emperor Yuan chose his concubines from the whole state. Because of Wang¡¯s fame in the county, she was his first choice for the concubine from Nan county. Emperor Yuan issued the edict that Wang should enter the harem soon. Wang's father said that his daughter was too young to enter the harem, but could not violate the decree. Wang left her hometown and entered the harem of Emperor Yuan in early summer. According to the custom in the palace, when choosing a new wife, the Emperor was first presented with portraits of all the possible women. It is said that because of Wang's confidence of beauty and temperament, she refused to bribe the artist Mao Yanshou as the other maids did. As a reprisal, Mao Yanshou painted a mole of widowed tears on Wang's portrait. As a result, during her time in the Lateral Courts, Wang Zhaojun was never visited by the emperor and remained as a palace lady-in-waiting. Wang Zhaojun's portrait was either never viewed by the Emperor, or was not in its true form, and therefore the Emperor overlooked her.
In 33 BC, Huhanye Chanyu visited Chang'an as part of the tributary system that existed between the Han and Xiongnu governments. He took the opportunity to request to become an imperial son-in-law, which is recorded by Lou Jingde under Emperor Gaozu of Han. As Queen Mother L¨¹ had only one daughter she did not have the heart to send her too far away. Typically the daughter of a concubine would then be offered, but, unwilling to honour Huhanye with a real princess, Emperor Yuan ordered that the plainest girl in the harem be selected.He asked for volunteers and promised to present her as his own daughter. The idea of leaving their homeland and comfortable life at the court for the grasslands of the far and unknown north was abhorrent to most of the young women, but Wang Zhaojun accepted. When the matron of the harem sent the unflattering portrait of Wang Zhaojun to the emperor he merely glanced at it and nodded his approval. Only when summoned to court was Wang Zhaojun¡¯s beauty revealed and the emperor considered retracting his decision to give her to the Xiongnu. However, it was too late by then and Emperor Gaozu regretfully presented Wang Zhaojun to Huhanye, who was delighted. Relations with the Xiongnu subsequently improved and the court artist, Mao Yanshou, was subsequently executed for deceiving the Emperor.
Wang Zhaojun became a favourite of the Huhanye chanyu, giving birth to two sons. Only one of them seems to have survived, Yituzhiyashi. They also had at least one daughter, Yun, who was created Princess Yimuo and who would later become a powerful figure in Xiongnu politics. When Huhanye died in 31 BC, Wang Zhaojun requested to return to China. Emperor Cheng, however, ordered that she follow Xiongnu levirate custom and become the wife of the next shanyu, the oldest brother (or her stepson, born by her husband's first wife) of her husband. In her new marriage, she had two daughters. Wang was honoured as Ninghu Yanzhi.
Statistics show that there are about 700 poems and songs and 40 kinds of stories and folktales about Wang Zhaojun from more than 500 famous writers,both ancient (Shi Chong, Li Bai, Du Fu, Bai Juyi, Li Shangyin, Zhang Zhongsu, Cai Yong, Wang Anshi, Yel¨¹ Chucai) and modern (Guo Moruo, Cao Yu, Tian Han, Jian Bozan, Fei Xiaotong, Lao She, Chen Zhisui).